A few years ago we decided to go exploring. I would always pass this big house in Wylliesburg, Virginia. Really wanted to see inside of it. So we headed to Wylliesburg with hopes we could find out who owned it and hopefully go inside of it. We did find the owner and he did allow us to go into it. I will save that house for another day. He gave me a handful of skeleton to keys to unlock it! When we returned the keys to him he said, "I know of a hidden plantation that was owned by the Bruce family. I can give you permission to explore it. I'm not the owner, but I look after it."
We immediately said YES!!! The Bruce family was one of the wealthiest in the nation back in the day. They owned Berry Hill Plantation in South Boston and many other plantations. The Bruce family were merchants, among other things. They opened stores in several areas. The directions he gave us to this plantation were tricky. Drive five miles, turn left at the church. Turn right at the next church. You will cross over a creek, immediately turn left. In the bend of the road turn off onto the dirt road. Follow it back for a mile into the woods till you get to the clearing. We had to start over a couple of times and one time we ended up in a soybean field. If you watch the video up above, you can tell how amazed I was that we finally found it!!
Above is how we entered the house. It was a bit unnerving. This would have been the servant entrance and servant stairs. Right beyond this part of the house was the summer kitchen. It was the largest summer kitchen I have ever seen.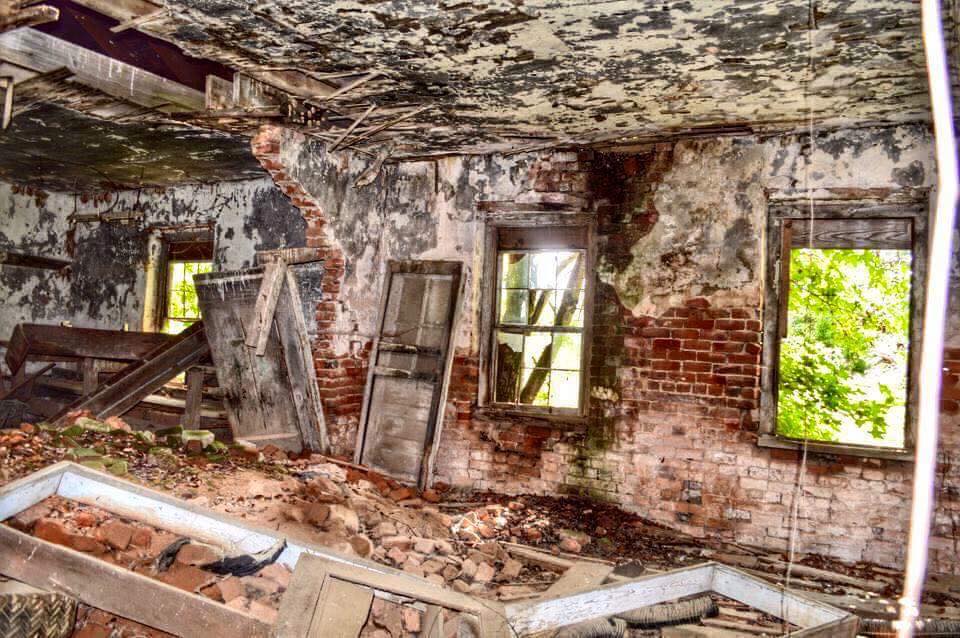 Interior of summer kitchen. There were living quarters in the upstairs of this structure.
This home was a federal style three story brick home. There is very little online about this home. I did find it in a book about someone's visit to it. They talked about the food served there being lavish. The caretaker told me that a decade ago a man wrote his master's thesis about Morotoc, but I never found it online.
Main foyer which is on the second floor.
I received a message from a lady yesterday. I'm glad she reminded me of Morotoc. She said her mother was born in the house in 1928. She lived there from 1928 till 1941. Her weekly job was to polish the bannister and quite a bannister it is!!!
Back in the 1800's this plantation was comprised of 1,000 acres. There were slave houses dotted along the back of the property. We didn't see them that day, but I heard there were crumbling structures still there. They were made of brick, which is pretty unusual for enslaved houses. It was often done as a show of wealth. If you look at the Bruce family plantation of Berry Hill in South Boston, Virginia, those enslaved houses were made of stone.
Third floor porch. I did end up with poison ivy after this exploration day. No surprise there!
Barn on the property. We keep saying we want to go back in the winter to really see what the house looks like. Maybe this will be the year we do it!